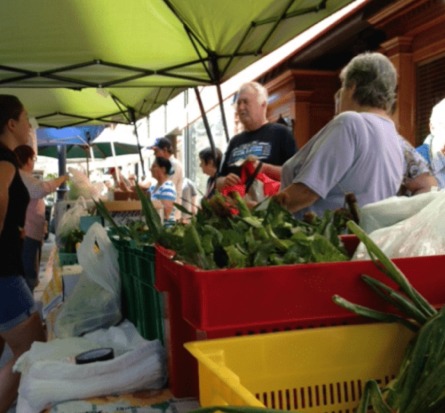 Buy Fresh and Local
A favorite summertime activity is wandering through local farmers markets, browsing in-season produce from Connecticut farms. It's a great way to see neighbors, support local businesses, and enjoy fresh air shopping. During the season, we are on the Waterbury Green from 9 a.m. – 1 p.m. every Thursday.
When we can't be on the Green because it's off-season or due to COVID restrictions, we can continue selling goods from our rear entrance (loading dock), Mill Street gate.
Check out our farmers' market schedule for the growing season:
Farmers' Market on the Green – Every Thursday from July 8th – October 28th (rain or shine) from 9 am to 1 pm on the Waterbury Green in front of the Immaculate.
Farmers' Market at the Waterbury Senior Center (outside), 1985 East Main Street – Every Tuesday from July 6th – October 26th from 10 am to 11:30 am.
Farmers' Market at Bucks Hill Park, Montoe Road – Every Saturday from July 10th through October 30th from 9 am to 11:30 am.
Brass City Regional Food Hub – Open daily for fresh food sales from 9 am to 1 pm, Tuesday thru Friday, and 9 am to 12 noon on Saturdays (nearly year-round hours)
Farmers' Market at the Woodbury Senior Center – Every Wednesday from 10 am to 12 noon July 14th – October 27th.
Every market accepts cash, debit/credit card, Farmers' Market Nutrition Program Coupons for WIC households and seniors/disabled, and SNAP.
All farmers markets sell quality Connecticut-grown produce, and each market accepts cash, credit card, SNAP, and Farmers Market Nutrition Program checks.